Invisalign Dentist in Norwalk, CT
Dr. Karima Daniel

at Daniel Dental Studio offers orthodontic treatment, like Invisalign to discreetly correct alignment and bite issues. Invisalign has many benefits such as invisible appearance, improved cleanliness, better dental health, straight teeth, time saving and comfort.

Contact us

for more information, or request an

appointment online

today! We are conveniently located at

515 West Ave Suite R, Norwalk CT, 06850

.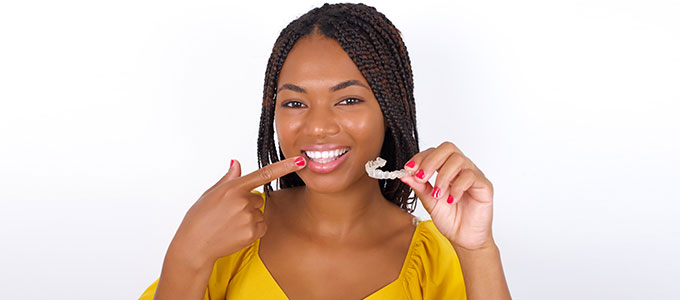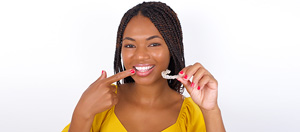 Table of Contents:
What is Invisalign?
How can Invisalign fix my teeth?
What are the benefits of Invisalign?
Who is a good candidate for Invisalign?
Daniel Dental Studio offers many dental and orthodontic treatments. Invisalign is one of the more popular offerings because of its ease of use and effective outcomes. To find out more about this treatment, contact us today.
What is Invisalign?

Invisalign is an almost invisible aligning system that will straighten teeth fast. One of the main concerns people have about dental braces is how they look. The idea of wearing unattractive metal braces can be very discouraging, especially if they need to be on for a long period of time.

The Invisalign treatment works with a series of custom-made alignment trays. The dentist will change the trays to fit the new tooth configuration every few weeks. Invisalign has a reduced visual impact since they are clear in color. The aligners can also be removed for occasions where you don't want them to be seen. Many clients have been completely satisfied with the Invisalign treatment's amazing results.
How can Invisalign fix my teeth?

There are certain issues that Invisalign works well at correcting. It will depend on the severity of the condition as to whether Invisalign will be effective.

Crooked teeth are the most common fix that people will use Invisalign for.

An overbite and underbites are other issues that Invisalign can address. It can be used to align teeth properly. If the case is extreme, Invisalign may not be the best choice.

A crossbite is when some of the upper teeth sit inside lower teeth, instead of outside. This can cause the teeth to chip and excessively wear down of the teeth. In many cases, Invisalign can work well at correcting this issue.

Gaps in the teeth are caused by spacing issues. When you have gaps in your teeth, food can get caught between them and cause pain and gum disease. Closing these gaps will create a healthier mouth and a better-looking smile.

Open bites are when the upper and lower teeth don't meet; Invisalign can correct this problem.

Crowded teeth happen when there isn't enough room in the jaw for all of the teeth to align properly. The reduced space causes the teeth to overlap and twist creating spaces where food can get stuck and tartar and plaque can build up. Invisalign can be used to correct crowded teeth, depending on the severity of the crowding.
What are the benefits of Invisalign?

Invisalign braces and traditional braces will improve the alignment of your teeth and produce a better smile and better oral health. Traditional braces have been used for decades with a good deal of success. Invisalign is a newer way of straightening teeth that meets the needs of people today. There are similarities between the two types of braces, but the differences are where the benefits lie.

Invisalign aligners are made of clear plastic that makes them almost invisible to other people. This reduces anxiety for some people, unlike traditional braces that could be quite noticeable.

Invisalign braces are convenient. They can be removed from the mouth when the need arises. The aligners must be worn for 20-22 hours a day. Traditional braces can only be removed by the orthodontist.

Invisalign works faster than traditional braces. Patients can often get the results that they are looking for in 6 to 18 months. Traditional braces take an average of 2 years.
Who is a good candidate for Invisalign?

Invisalign is recommended for older teenagers and adults. It works better for people whose teeth have stopped growing. Invisalign works best on people who do not have serious dental issues. People who are willing to follow the instructions and stay within the Invisalign guidelines will get the best results. Wearing the aligners is easy, but they do need to be worn for extended periods of time. The aligners must be removed when eating.

People who have active gum disease or cavities may want to postpone using Invisalign. Dental implants, dental bridges, or TMJ can cause the aligners not to fit properly. Dentists can sometimes work around these issues. These are daily general guidelines about Invisalign. If you want to know if you are a good candidate, please contact Daniel Dental Care. We can best determine whether Invisalign will work well for you. Call us for more information, or request an appointment online today! We are conveniently located at 515 West Ave Suite R, Norwalk CT, 06850. We serve patients from Norwalk CT, Stamford CT, Westport CT, Darien CT, Rowayton CT, Wilton CT, New Caanan CT, Fairfield CT, and surrounding areas.