Dental Crowns and Bridges Specialist in Norwalk, CT
Dental crowns assist in the correction of cosmetic bite alignment difficulties, small gaps between teeth, distorted or discolored teeth, and even minor imperfections. When only one or two teeth are missing, a bridge is typically employed. Daniel Dental Studio offers restorative procedures like dental crowns and bridges for severely damaged, decayed, or missing teeth. Meet

Dr. Karima Daniel

and get a solution for your tooth decay. To meet Dr. Daniel visit our clinic conveniently located at

515 West Ave Suite R, Norwalk CT, 06850

. For more information,

contact us

or request an

appointment online

today!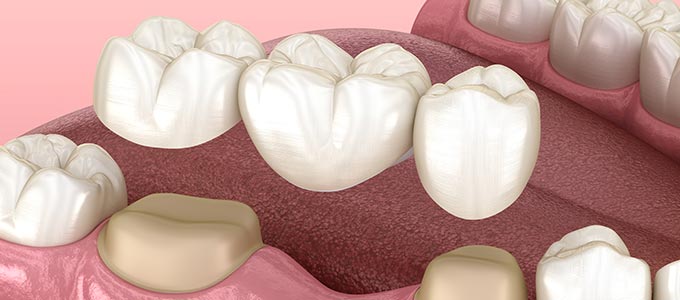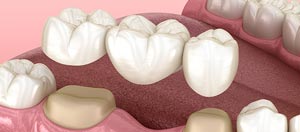 Table of Contents:
How do dental crowns work?
How do dental bridges work?
What is the difference between dental crowns and dental bridges?
How do you care for a dental crown or bridges?
Dental crowns and dental bridges are dental restorations that are used to protect and restore decayed, damaged, or broken teeth. Dental crowns are used to protect the tooth from further decay and damage and are made of different materials, including porcelain, composite resin, and metal. They are shaped to fit around the tooth and are carefully designed to resemble the original shape of the tooth. Dental bridges are restorative dentistry procedures that can span across several teeth; the goal of dental bridges is to replace one or more missing teeth with artificial teeth.
How do dental crowns work?


Dental crowns are a popular treatment for a wide range of dental problems, from small cavities to large-scale tooth decay. They help to protect and strengthen teeth, and can also improve the appearance of a smile. They work by providing a strong, durable surface that can protect sensitive tooth tissues from further damage and also help to prevent further tooth decay. Dental crowns are used to protect and strengthen a tooth when a large cavity or other type of damage has been detected. They may also be used to close a space in a tooth when a tooth has been partially removed for reasons such as a large cavity. Dental crowns can be made from a variety of materials, including ceramic, metal, and composite.
How do dental bridges work?


Dental bridges are a popular option for replacing a missing tooth or multiple missing teeth. They are made of two or more teeth on either side of the space, with a bridge or fake tooth in the middle. Dental bridges are used to help prevent the other teeth from moving, making them an effective solution for tooth loss. Dental bridges work by filling in a space between teeth and providing a foundation for artificial teeth. A bridge is placed across the gap and is secured to teeth on either side, often with artificial teeth known as pontics. This helps to prevent other teeth from moving into the space and causing damage or discomfort.
What is the difference between dental crowns and dental bridges?


Dental crowns and dental bridges are common dentistry procedures that serve two distinct functions. Crowns are essentially false tooth cap that improves the strength and biting force of a tooth after it has been compromised due to decay, damage, or infection. Each crown is custom-made to match the shape and feel of the natural teeth. The color and texture can also be matched to the existing teeth and are typically made of porcelain or resin.

On the other hand, dental bridges are prosthetic appliances that are used to treat patients with a missing tooth or several consecutive missing teeth. Typically made of porcelain, bridges are fused to metal for improving the function and appearance of the teeth. Firmly fixed between two crowns, bridges are secured in place to prevent adjacent teeth from closing in on the gap.
How do you care for a dental crown or bridges?


Dental bridges and crowns should be cared for just like regular teeth, requiring brushing and flossing twice daily. In some cases, a soft-bristled brush may be recommended when caring for bridges in order to minimize wear and tear. Furthermore, it is important to prevent tooth decay with dental crowns or bridges by eating a healthy, well-balanced diet. Finally, people with dental bridges or crowns should see their dentist twice a year; this allows the dentist to detect any early signs of oral disease and take the necessary steps in order to prevent its development. Daniel Dental Studio provides dental crowns and bridges, so you can have a beautiful smile that functions as well as it looks! We look forward to serving you! Call us for more information, or request an appointment online today with our dental crowns and bridges specialist! We are conveniently located at 515 West Ave Suite R, Norwalk CT, 06850. We serve patients from Norwalk CT, Stamford CT, Westport CT, Darien CT, Rowayton CT, Wilton CT, New Canaan CT, Fairfield CT, and surrounding areas.