Dentures Specialist in Norwalk, CT
Restore your confidence and improve your quality of life with our affordable and long-lasting dentures at Daniel Dental Studio.

Call us

for more information, or request an

appointment online

today! We are conveniently located at

515 West Ave Suite R, Norwalk CT, 06850

.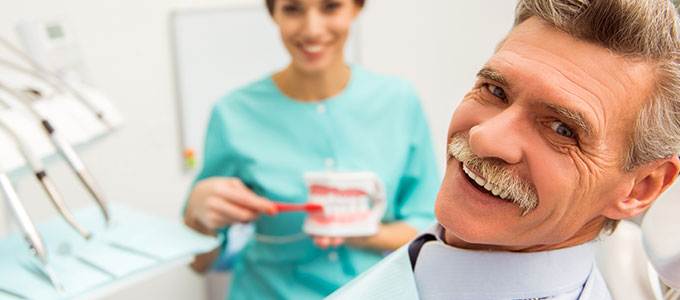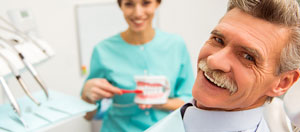 Table of Contents:
What is the purpose of a denture?
What should I know about dentures?
How do you know when it's time for dentures?
How do you care for dentures?
When we are experiencing an oral health problem, we visit the dentist to determine the most appropriate course of action. Similarly, when our natural teeth are no longer providing the level of comfort and functionality we desire, we turn to the dentist to find a solution. In many cases, the best solution is a set of dentures, or artificial teeth, as they serve as an effective replacement for natural teeth and are easy to maintain and care for.
What is the purpose of a denture?


Dentures are prosthetic devices that can be used to replace one or more teeth; they are commonly used to replace a full set of missing teeth on either the upper or lower arch, sometimes both. They can also be used to provide support when teeth have been removed due to extractions. In some cases, a denture may be used to support a set of teeth that are still present but have been weakened by disease or injury. The purpose of a denture is to provide patients who have missing teeth with the form and functionality of a full set of teeth. When properly cared for, dentures can also help improve speech, making it easier to communicate with others and reducing the sense of isolation.
What should I know about dentures?


Dentures are artificial teeth and gums that are custom-formed to a person's mouth and created by a dentist to replace lost or removed natural teeth. Dentures can either be full or partial; full dentures replace all teeth on either the top or bottom gum line, and partial dentures replace just a few missing teeth. Regardless of what kind of dentures are needed, they are always custom-designed to fit the patient's mouth and visually matched to the patient's existing natural teeth.

Dentures used to be made out of porcelain or plastic, but more modern methods use dentures that are made out of a hard resin material. Dentures require special care as they are not as strong and resilient as natural teeth, meaning they can chip or crack if dropped or improperly looked after. Dentures made out of resin typically last around five years; their exact longevity varies and is dependent on a number of factors unique to each patient, including lifestyle, oral hygiene, self-care practices, and diet.

Not only do dentures improve the appearance of a smile that has multiple missing teeth, but they also keep the anatomy of the mouth in good condition by supporting the structures around the cheeks and lips. In addition to this, dentures also make it possible to eat foods that require chewing, which enables people to maintain a healthy, well-balanced diet that is properly nourishing.
How do you know when it's time for dentures?


There are two main signs that indicate it may be time for dentures, including overall health and personal confidence. When teeth are missing, it can negatively affect health by limiting the ability to chew, potentially leading to nutritional deficiencies. Furthermore, if missing teeth are affecting one's confidence, dentures can provide them with a bright, full smile that can give them the assurance they need to live a more fulfilling life.
How do you care for dentures?


Caring for dentures is similar to caring for natural teeth; this typically involves:

• Rinsing dentures daily and after each meal
• Preventing dropping damage by placing a towel under the dentures when cleaning them
• Rinsing the mouth after each removal
• Brushing dentures daily with a nonabrasive toothbrush
• Soaking dentures overnight in mildly warm water
• Rinsing dentures before placing them in the mouth

If you need dentures, come to Daniel Dental Studio today. Call us for more information, or request an appointment online today with our dentures specialist! We are conveniently located at 515 West Ave Suite R, Norwalk CT, 06850. We serve patients from Norwalk CT, Stamford CT, Westport CT, Darien CT, Rowayton CT, Wilton CT, New Caanan CT, Fairfield CT, and Bridgeport, CT.